Cindy F.- Dental Hygienist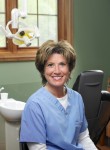 Born in Oklahoma, Cindy has lived in Evansville for the past 42 years. As a dental hygienist, she loves building a relationship with her patients from childhood to adulthood. In her free time, she loves spending time with her husband and two grown children and her adorable grandson! She serves on Tres Dias and Chrysalis weekend retreats and volunteers at Impact Ministries Dental Blitzes. Cindy is also our resident fitness fanatic who's completed 13 half-marathons, one full marathon, and one indoor mini-triathlon.
---
Cindy B.- Dental Hygienist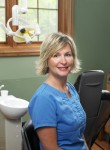 Born in Evansville and a graduate of University of Southern Indiana, Cindy is married and a mother to three very active boys. Cindy and her husband are also local business owners of Brinker's Jewelers. Cindy has been involved in the field of dentistry since the age of 15. Working for a local children's dentist, she found that she really enjoyed it and decided to pursue a career in dental hygiene. During her free time, she loves to watch her boys in all of their activities and travelling to our favorite beaches in Destin, Florida.
---
Mary Ann- Dental Hygienist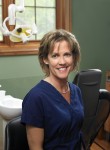 Mary Ann was born and raised in Evansville. She is proud to say she has been a happy dental hygienist working with Dr. Hart, Dr. Ogle and then Dr. Schmitz and Dr. Fickas for 37 years straight! "Why leave when you can work in such a top-notch environment?" she says. She has been happily married for 34 years and has two daughters and one son, all Mater Dei graduates and of whom she is very proud.
Mary Ann has loved getting to know and converse with long-time patients as well as new patients. Co- workers have also become like family members, she says, and she enjoys socializing with them. Mary Ann is active at Resurrection parish in Evansville. She enjoys vacationing with her family as well as sewing and working on craft projects.
---
Denise – Dental Hygienist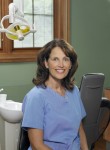 Denise has lived in Newburgh her whole life and graduated from Castle High School. Go Castle Knights! Denise graduated from the USI Dental Hygiene Program. She has two wonderful daughters, and they are the joy of her life. Her hobbies include exercising, reading, travel, and watching colt's football. She enjoys working in her yard and is a master gardener. Denise has been a hygienist for many years and feels blessed to be a part of the Family Dentistry team!
---
Christie – Dental Hygienist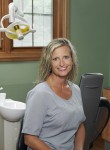 Christie was born in Owensboro, KY. She graduated from Western Kentucky University in 2001. She is very passionate about her patient's care and is very happy when her family of two grew to a family of four when she married. With her husband and two boys, she enjoys boating and deer hunting! She has also been a Group Exercise Instructor at the Evansville YMCA since 2008. She truly believes the saying: "If you love what you do, you will never work a day in your life."
---
Brandy – Dental Hygienist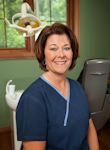 Brandy was born in Louisville, Kentucky, and was raised in Floyds Knobs, Indiana, since second grade. She moved to Evansville in 1995 after graduating from Indiana University. She has a bachelor's in CJUS and a minor in sociology. After moving to Evansville, she decided to continue her education at the University of Southern Indiana for dental hygiene. She has been a practicing dental hygienist for over fourteen years now.
Brandy is married with two very busy boys. She spends her free time at either their basketball or baseball games, depending on the season. Her hobbies include reading and spending time with family and friends. She also sells Thirty-One.
---
Mandy – Dental Hygienist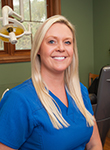 Mandy was born and raised in Evansville. She graduated from Memorial High School and then attended USI for dental hygiene. Mandy is happily married and has one wonderful daughter that is the joy of her life. Mandy knew when she was in the 5th Grade that she wanted to be a dental hygienist. She enjoys working with patients and getting to know them. In her free time, she enjoys spending time with family and friends, watching Colts football, gardening, and camping. Mandy feels truly blessed to be a part of the Family Dentistry team!
---
Angie – Dental Hygienist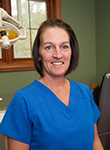 Born and raised in Evansville, Angie has lived in Newburgh for 24 years. Angie attended Memorial High School where she was fortunate to play soccer in the state championship soccer game. Graduating from USI in 1989 with a degree in dental hygiene, Angie enjoys being a dental hygienist. Angie and her husband have been married for 26 years and are most proud of their daughter and son. Spending time outdoors with her family is a favorite hobby. Other hobbies include playing soccer, playing tennis, and running. Angie's favorite aspect of being a dental hygienist includes the one on one interaction with patients and helping them to maintain a healthy mouth!