Kelly – Dental Assistant
Born and raised in Evansville as a railroader's daughter, Kelly is blessed to have two children and three grandchildren. Having a phobia of visiting the dentist as a child created the desire to combat her fear and work in the dental profession. Understanding others' feelings of this fear has made her a better assistant. She enjoys helping others to have a healthy smile and promoting good dental care to keep their teeth. Kelly loves to have fun at work but on her days away from the office she can be found motorcycle riding, boating on the Ohio River, reading, tanning, gardening, or cooking. She has also been married to her fun, loving husband since 1984. Giving 100% in everything she does is a great quality from working to playing to just having fun.
---
Peggy – Dental Assistant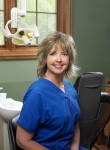 Born in Ohio, Peggy was raised in Newburgh since she was a little girl. Peggy married her high school sweetheart and has two wonderful kids. She is proud of her son achieving a doctorate in pharmacy and her daughter achieving a doctorate in physical therapy. Comforting patients who are nervous or anxious about dentistry is her favorite part about assisting. If a patient comes through the door and can leave saying "That was really easy," Peggy knows she has done her job. Swimming, dancing, taking walks with her husband, and visiting her kids are her fun hobbies. Enjoying working for Dr. Ogle since 1994, she could not imagine being anywhere else.
---
Joyce -Dental Assistant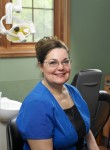 Born and raised on a farm in Vanderburgh County, Joyce is the mother of a son. She has been involved with dental assisting since 1974. She loves her career in dentistry because she loves to build relationships with the patients as well as give quality care. Her beautiful smile shows that she truly enjoys being around the patients as well as the dental team. Volunteering for the Evansville Dental Assistant Society, working in the yard, as well as enjoying activities with friends, keeps her very busy and happy. She also loves spending time with her precious granddaughter.
---
Stacey – Dental Assistant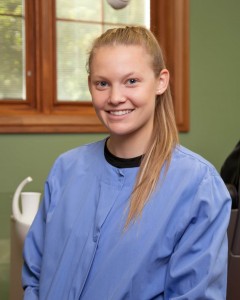 Stacey is a small town girl born and raised in Haubstadt, Indiana. She is a graduate of Gibson Southern High School and a 2014 graduate of the University of Southern Indiana Dental Assisting Program.
Following college, Stacey moved to Florida and began her career in dental assisting in which she continues to thoroughly enjoy working in the dental field. After getting engaged, Stacey and her fiancée relocated back to Indiana. With a wedding date set for September 2016, Stacey spends a lot of time wedding planning. When she has free time, Stacey loves to spend as much time as she possibly can with her family. She and her fiancée enjoy running, hiking, and really love and miss the beach!
---
Virginia – Dental Assistant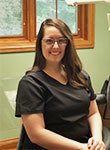 Virginia grew up in the small town of Montgomery, IN and was a graduate of Barr-Reeve High School. She first graduated from Oakland City University in 2014 with a degree in early childhood education. She taught preschool for a few years before she decided that she wanted to change her career. She now lives on the west side of Evansville and is a graduate of the University of Southern Indiana Dental Assisting Program, class of 2020. In her spare time, she enjoys hanging out with her boyfriend, Amanuel; her two spoiled rotten Chihuahuas, Cocoa and Cleo; and her family and friends. She also enjoys cooking and baking, doing crafts and completing puzzles of almost every kind. Jig-saw puzzles are her favorite! She is very excited to join the Family Dentistry team and looks forward to the relationships she will form with her coworkers and patients!