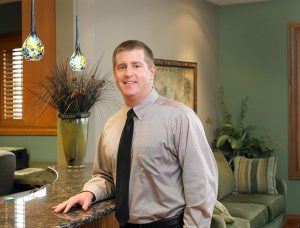 Samuel E. Schmitz, DDS, was born and raised in Evansville, Indiana. He is a graduate of the University of Southern Indiana and Indiana University School of Dentistry. Dr. Schmitz graduated from Indiana University School of Dentistry in 2007 and moved back to the Evansville area. In June 2007, Dr. Schmitz started his dental career in Newburgh, Indiana.
Dr. Schmitz is a member of the American Dental Association® and the Indiana Dental Association. As a member of the local Select Study Club, Dr. Schmitz is able to become familiar with the evolving field of dentistry through continuing education.
Dr. Schmitz and his wife, Cassie, were married in January 2010. They have two daughters, Hannah and Allison, and a son, Matthew. In his free time, Dr. Schmitz enjoys spending time with family and friends, golfing, fishing, and traveling.
View Dr. Schmitz's Facebook page.