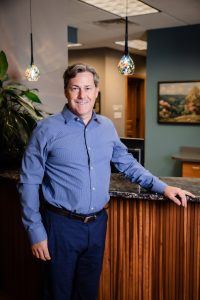 David G. Ogle, DDS, is a native of Evansville, Indiana. Dr. Ogle received his Doctor of Dental Surgery in 1993 from Indiana University School of Dentistry. After graduation, Dr. Ogle and his wife, Lynn, moved to Newburgh and later became parents to Nathan and Natalie. Dr. Ogle was proud to begin his dental career in Newburgh, which is a wonderful community that is conveniently located to the Evansville area in which he was raised.
Dr. Ogle has been a member, officer and former president of the First District Dental Society, as well as a member of the Indiana Dental Association and American Dental Association®, since becoming a dentist. He is also a member of the Seattle Study Club®, which continues to enhance his dental skills in providing the most up-to-date care for his patients.
Dr. Ogle enjoys spending time with his family, relaxing in his back yard and starting his day early at the gym. He continues to challenge himself each day so he may provide the best care for his patients.